Jan 26, 2018
A junior epidemiologists experience with submitting a career development award: Part 1
Stepping away from my usual posts about methodologic challenges in epidemiology, I'm currently in the process of submitting a career development award to NIH (K01, specifically NIAID) and would like to blog about my experiences throughout the process. I figure that since I had these questions along the way, others might as well, and therefore may view these next few posts as a useful resource. For full disclosure this is not my first ride on the merry-go-round with NIH. I've submitted two previous awards, small in scope (an R21 and an R40), that were ultimately not funded. Perhaps that has made me a little more cynical on the process, but perhaps a little more realistic and aware of what the study sections look for when reviewing grant applications.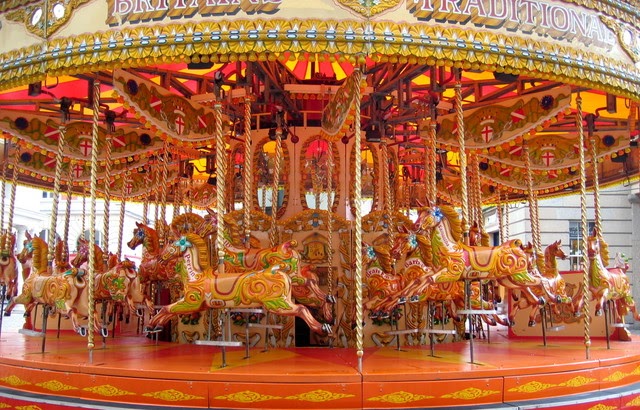 To the question of why a K01 award as opposed to another type of long-term mechanism for federal funding (e.g., an R01), this has to do with both chances to receive funding as well as expectations of the award itself for a junior investigator. Consider the R01, by many the gold standard of NIH grants: It provides up to 5 years of support for a project, and most importantly pays a considerable amount of money to your institution through indirect payments (maybe 50% or so of the total award). This is how researchers make money for their programs - this is not and should not be a secret. Hence, academia supports and encourages these types of grants. The PI and other investigators can receive salary support and other funding, but typically not in excess of 30%. An R01 award goes hand in hand with other funding mechanisms for your research, and is one reason you often see investigators carry multiple grants concurrently. But an R01 is hyper-competitive, and depending on which NIH institution you apply through, the paylines are sometimes ridiculous. Contrast this with a K01, also (typically) a 5 year award. The indirects on a K are much lower; the institution rather views this as more of an investment in you the researcher rather than an opportunity to receive money from indirects. But importantly a K award provides salary support (NIAID awards up to $75k + $25k research support annually) and protected time (at least 75%) for you as the researcher. The K01 is a standalone grant that ensures you have the resources necessary to develop into an independent researcher who will be competitive for an R01. Also the paylines are more generous. If you're eligible for a career development award (not having been PI on an R01 or equivalent) why not go for the mechanism that provides the most protected time and greatest amount of salary support?
Recognizing not every junior investigator needs a full 5 year training and research development plan, NIH create the combined K99/R00 award a few years back, also known as a "kangaroo" award. The intention behind this award was to compress the training into a shorter period of time, leaving the last few years for an independent research project. It was designed to represent the best aspects of both the career development award and the independent investigator award in that you get both training and the prestige of an R. In my view, if you're eligible for this award, why not guarantee yourself the full five year salary support and protect time of the traditional K? I have not heard a convincing argument to the contrary.
I have found several resources to be particularly helpful for navigating a career development award at NIH. Some of these are specific to my targeted institution, NIAID, but the equivalent information should be available from other NIH institutes and centers. NIAID has created a great jumping off point for those interested in career development awards. From there, it's possible to link to the current program announcement, the SF 424 program application guide, review cycles/due dates, and paylines, along with lots of other tips on the process. It's also super important to see what your institution has funded before in terms of equivalent grants through NIH RePORTER.
With a rough understanding of the process and the decision to move forward, the next step is to talk to people. I can't emphasize that enough. After securing departmental support from my chair in my academic institution, I immediately reached out to the grants officer at NIAID to confirm my eligibility for a career development award and then followed by contacting the program officer (PO) at NIAID who would be personally handling my submission. The PO can be found typically through the program announcement. I've heard mixed opinions about the PO's advice; I suppose that is dependent the PO and their experience. The conversation I had was candid and valuable to understanding the successes and pitfalls of these applications. I definitely came away with an appreciation for the process, and a desire to chat with people who have been successful in getting their K01 funded. I've spoken with a handful of who have had a successful K award and several agreed to share their application with me. As a colleague told me, NIH applications are pretty cookie-cutter. Find someone who has had success with your type of award, and essentially follow their template substituting your information. By obtaining these example applications I'm able to pick and choose the approaches I like the best. I would also strongly advocate to speak with people who were not successful the first time around in their application. Some of the best guidance I've received has been from researchers who had to submit multiple times, because they became intimately familiar with what their study sections were looking for.
My next step was to recruit the senior/key personnel to be involved in the application. This would include your lead/primary mentor(s), co-mentor(s), and advisory committee members. My strategy was to find a lead mentor who was someone I respected and admired, and would make a suitable career-role model. This person should have a track record of mentorship and funding, preferably NIH awards. In my view, the lead mentor is responsible for the 40,000 foot view of the project as well as guidance for developing the R01 proposal. The day to day tasks of the specific aims in the science section falls upon my co-mentors. I chose three co-mentors who had specific content- and methodologic-area expertise for each of my three specific aims. Finally, I included several additional individuals as part of an advisory committee. They were not recruited as mentors, mainly due to their busy schedules or not being local, and importantly had name recognition that's important in my field. As my aims were somewhat disparate, this approach also ensured I had sufficient coverage with a panel of experts. So far, assembling this mentorship team has been the most difficult part of the application and should not be underestimated. These individuals receive no compensation for their time (the K01 expressly prohibits this) so these individuals have to be people you would want to work with and who have time available. Every key person has to provide a written letter documenting their involvement with your project, supporting your academically, and committing the time necessary. You have to be a bit of a hustler to assemble one of these applications so be persistent and pleasant. After all, no one wants to work with a jerk!
Next post will focus on the career development and training plan.